Ex-Indiana coach appealing NCAA penalty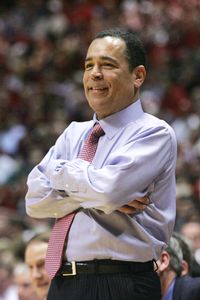 Word out of Indianapolis is that embattled ex-Hoosier head coach Kelvin Sampson is appealing a penalty assessed to him by the NCAA last year, the Indy Star reports this morning.
Sampson, currently an assistant coach for the Milwaukee Bucks, carries a five-year penalty that states that any NCAA member school wishing to hire him must make a case that he should not be punished further.
That essentially means no one will hire him in that timeframe.
Sampson is reportedly contesting that one of his former assistant's testimony was misunderstood – which led to NCAA enforcement staff to believe Sampson made phone calls to recruits that were against the association's rules.
Sampson left the historically-prominent program in shambles when he resigned in February 2008 after the NCAA accused the program of five major violations. It was found guilty of two.
The program lost a scholarship and multiple players transferred away from the team, which has forced the Hoosiers to play a lot of walk-ons this season.
The team is 5-13 so far this season.