So much weight for such tiny particles: NOvA's newest detector spots its first neutrinos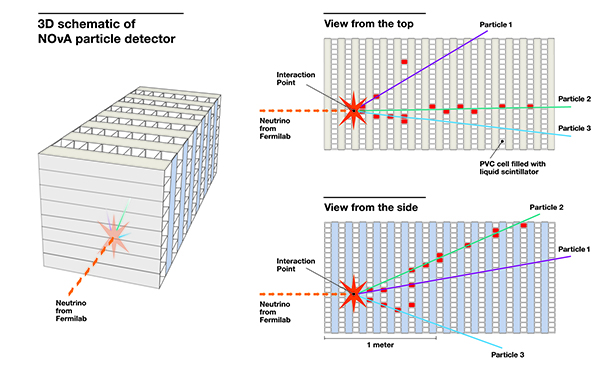 About 500 miles away near Chicago, one of the world's largest particle accelerators is shooting an invisible beam at a soon to be complete particle detector in Ash River Minnesota. The goal? To detect a particle so small, its considered tiny compared to the particles that make up a single atom.
According to a University press release, NOvA, or the NUMI Off-Axis electron neutrino Appearance experiment, consists of two giant detectors and a particle accelerator. The second and larger of the two detectors, called the far-detector, sighted its first long-distance neutrinos despite still being under construction.
Neutrinos are incredibly tiny particles that rarely interact with other matter and University of Minnesota scientists are hoping that learning more about how neutrinos behave will help them better understand how the universe worked during its early formation.
"What this experiment will eventually do, is essentially look at the different behavior of neutrinos and antineutrinos," said University physicist Marvin Marshak. Learning more about the way the particle behaves, he said, may shed some light on questions like why the universe created more matter than antimatter.
NOvA is operated by the University of Minnesota and was a collaboration of 208 scientists from 38 institutions around the world. The project is one of only three similar neutrino detection projects in the world, Marshak said, with the other two existing in Japan and Europe.
Ash River's far-detector, which is expected to be finished this summer, will ultimately weigh 14,000 tons, more than 40 times the weight of the other 300 ton detector in Illinois. The experiment is scheduled to run for six years and during that time the far-detector is expected to sight 5,000 neutrinos.
Spotting these first long-distance neutrinos is only one small step toward our understanding of the universe we live in, said Marshak, but that shouldn't be a reason not to celebrate the findings.
"Science is all about moving forward in small steps. It's nice to celebrate every step," he said.